Blog
Noodles – a breakfast revolution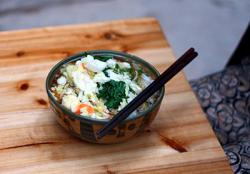 Breakfast NoodlesMany people prefer to skip breakfast, perhaps substituting it for a coffee. I am not one of these people. Breakfast is undoubtedly my favourite meal of the day. This is not to say that I can stomach just anything in the morning. Oh no. I like a light breakfast along the lines of jam toast, fruit, yoghurt, cereals….You get the picture. For this reason I was a little apprehensive about breakfasts in China. Why would anyone want to eat a bowl of noodles for breakfast? They are a lunch/dinner food, right?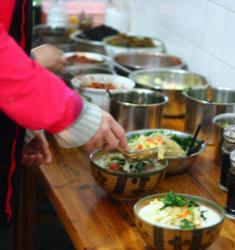 Flavouring noodles
Wrong. I am totally converted to breakfast noodles. The majority of XTGB staff who chose to break their fast in the town do so at a noodle shop next to the footbridge entrance to the Botanic Garden. While the location is handy, the real secret of success for the woman who runs the shop is the quality of her noodles. They are wonderfully tasty! Let me walk you through the process of ordering noodles here in China. First you select the noodle type – most people have thick or thin rice noodles. These noodles are cooked in a matter of seconds, and served in a tasty meat broth or vegetarian peanut sauce. You then walk to a condiment and vegetable table, and flavour the noodles as you wish. Options include a myriad of different spice mixes and sauces, vegetables such as spring onions and bean sprouts, and some mystery condiments I have yet to identify. My personal favourite is the pickled cabbage. This may sound a bit strange, but let me assure you there is nothing better than munching down on pickled cabbage first thing in the morning.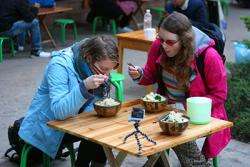 Noodle Shop next to the Botanic Garden
Just last week I was chatting to a newly arrived non-Chinese from XTGB over breakfast. They were enjoying their breakfast noodles well enough, but seemed not entirely satisfied. When quizzed, they admitted they would much prefer the noodles for lunch. My response was to look uncomprehendingly at them for a moment, before managing to utter the reply "but...but they are breakfast noodles!" My original doubts about the noodles were long forgotten.
Breakfast noodles are an unlooked for blessing for my day to day routine in China. It is the thought of my lovely bowl of noodles that gets me up in the morning when it is still cold and dark. I will definably miss this unlikely sounding (to a Welsh girl) breakfast cuisine on leaving China.
Breakfast in Banna from Sam Herniman on Vimeo.
Publication date: 28 January 2015